New Year's Resolutions, Making Your Health a Priority
The saying goes, new year, new you! Did you know that the number one resolution Canadians make revolves around their health? For 2017 the number one resolution made was to "improve personal fitness and nutrition". As a part of your health care team, we want to make sure we can provide you tools and education to help you along with whatever health related new years goals you have.
If your resolutions include knowing more about your health and medication:
Reviewing your medication and supplements can reveal more than you think. This is an opportunity to talk with one of our pharmacists about your health and medication. A one-on-one medication review can help you understand what your medications are for, and ensure you are getting the most from them. We also look to ensure that any medications you might be taking won't adversely react with each other causing unnecessary side effects.
This is available to all those with Pre-Diabetes or Diabetes and is also available for the friends and family members as well! Our pharmacists are all Certified Diabetes Educators and are available to go over anything relating to diabetes education and management. Including, blood glucose meter training, blood sugar management, insulin adjustments, nutrition and lifestyle advice.
If your resolutions include managing and keeping on top of your health:
Make managing your prescriptions a no-brainer! This app will change the way you manage your health and keep you connected to the pharmacy. All your medications can be refilled directly from your phone. You can also connect your family members and access their prescriptions all from one account!
Keeping your medications, supplements, and other vitamins organized and on schedule can be difficult. So let us organize them for you with our convenient blister cards! Accu-Pak replaces your pill bottles into convenient "bubble" cards. We take care of putting your medications into the correct time of day: morning, noon, supper, and bedtime. The cards make it easy to see when you have taken your medication. So you can stay on track and never miss a dose! The best part, this service is offered at no extra cost to you!
Whatever your new year's resolution may be we wish you all the best with achieving it and hope we can help you along the way!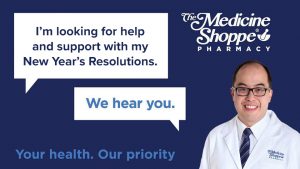 For more information on the services we offer you click here.